The 2015 Creative Education Conference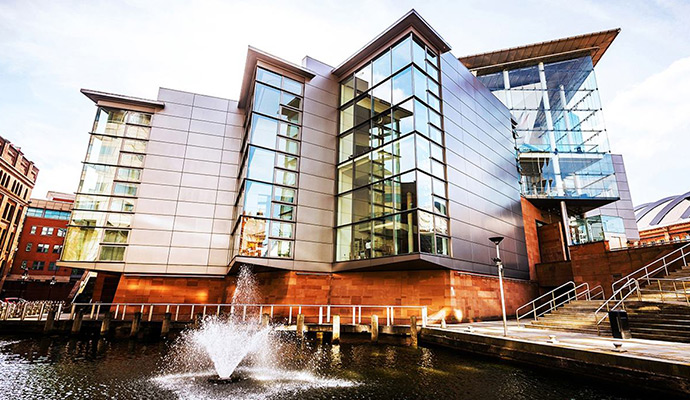 Thank you to all who attended the 2015 Creative Education Conference.
Building on the success of previous year's events the 2015 Creative Education Conference brought together leaders from schools, colleges, universities and industry to give profile to the importance of creative subjects in the curriculum and:
hear the latest on GCSE/A-level reform and the future of creative education
inform the design of creative subject qualifications and how they are taught
collaborate with Higher Education and industry to share good practice and inspire innovation
Watch the video of the Creative Education Conference 2015
Keynote speakers
Abigail Appleton, BBC Learning Creative Director

Abigail Appleton is Creative Director, BBC Learning and oversees the development and delivery of Learning's large-scale educational campaigns through radio, TV, online and public events. Current campaigns include Ten Pieces, a schools-focused project to engage young people with classical music and stimulate creativity in music and beyond and The Little Painting Challenge, galvanising audiences from many different backgrounds to create their own work of art on a postcard that will culminate in pictures by a thousand amateur artists being displayed in The Whitworth art gallery in Manchester. BBC Learning is also playing a pivotal role in Make It Digital, the BBC's initiative to inspire digital creativity. As part of Make it Digital, BBC Learning is working with more than 25 partners to give every child in year 7 across the UK a small programmable hardware device to inspire the development of new skills. All the campaigns are underpinned by Learning's educational websites Bitesize and iWonder. Before taking up this new role in September 2014, Abigail was Head of Commissioning for BBC Learning. Her commissions with radio and TV ranged from a week of on air and event activity The Radio 1 Academy, five dramas highlighting literacy issues for BBC One, Secrets and Words, and a series of acclaimed commissions with BBC Three including fact based dramas My Murder and Our World War for which she also commissioned a ground-breaking interactive episode online.Previously Abigail was Head of Speech Programmes at BBC Radio 3 where she was responsible for numerous dramas, documentaries and special seasons and launched the station's annual festival of ideas, Free Thinking, and initiated an on-going partnership with the Arts and Humanities Research Council, New Generation Thinkers.
Professor Jonothan Neelands, Director of Study, Warwick Commission on the Future of Cultural Value

Professor Jonothan Neelands PhD, DSc is a National Teaching Fellow, Professor of Creative Education at the Warwick Business School (WBS) and Chair of Drama and Theatre Education at the University of Warwick. In addition to his academic profile, he is an experienced creative workshop leader and drama practitioner, with a national and international reputation for delivering high quality keynotes and master classes. From 2010 to 2013 he was Strategic Academic Lead for Teaching Shakespeare, a joint venture with the Royal Shakespeare Company. Currently he is Director of Study for the Warwick Commission on the Future of Cultural Value and Research Project Director for the Creative Industries Federation.

As Associate Dean for Creativity in WBS, he is working with colleagues to develop a range of creative infusions and interventions both into the curriculum and the extra-curricular life of the School. These include student performances and participatory theatre workshops that use classical literature to explore the human questions and issues at the heart of all businesses. He is interested in developing a future oriented and problem based pedagogy for business education and training with an emphasis on ethical and inclusive models of leadership.

Research interests include: policy and practice in the Creative Industries; the value of the arts in education and in the broader society; the theory and practice of drama and theatre education; participatory pedagogies and politics; teaching artistry and the work of teaching artists; models of cultural and creative learning; the politics of cultural and education policy-making; teaching in urban settings; creativity and entrepreneurship. Recent research projects have been in partnership with the Department for Education, Higher Education Academy for the Open Space Learning project at Warwick; Birmingham Royal Ballet; Birmingham REP. Theatre; RSC and the National Association of Youth Theatres amongst others.

Professor Neelands has advised government on the identification and training of exceptionally able and motivated young performers and is an Executive Director of Drama UK, which represents industry standard drama training. He is a Board Member of the Warwick Arts Centre and Patron of the International Schools Theatre Association (ISTA).
Pauline Tambling CBE, CEO, Creative & Cultural Skills and Managing Director, National Skills Academy for Creative & Cultural Skills

Pauline Tambling is CEO of Creative & Cultural Skills, the UK sector skills council for craft, design, cultural heritage, music, performing arts, literature and the visual arts, based at The Backstage Centre in Purfleet, Essex.
Until April 2009 Pauline was Chief Operating Officer of Creative & Cultural Skills. She previously worked at Arts Council England in five senior roles (1998 – 2007)and set up and ran the Royal Opera's Education Programme (1983 to 1997) following seven years in teaching.
Pauline is Chair of Shape (an arts and disability organization), a board member of Drama UK and High House Production Park, a member of the Clore Leadership Strategy Group, a member of North Hertfordshire College Studio Schools Trust and chair of the da Vinci School for Creative Enterprise. In London she is a member of the Mayor's Cultural Strategy Group and chairs its Cultural Skills Group.
Pauline has an M.A. from Leeds University. Her publications include Performing Arts in the Primary School (Blackwell 1990), Orchestral education programmes: intents and Purposes (with John Harland) and various academic articles. She also devised two television series for BBC2. Previously non-executive roles include as a governor of the University for the Creative Arts, member of the arts committee of St George's Healthcare Trust and trustee of Shakespeare Schools Festival.Pauline was awarded a CBE in the 2014 Queen's Birthday Honours for services to education and training in the cultural sector.
Margaret Farragher, Head of Policy and Qualifications, UCAS

Margaret is Head of Policy and Qualifications at UCAS and is leading the New Qualification Information Service (NQIS) which includes the new UCAS Tariff. She joined UCAS in September 2013, from KPMG. Margaret started her career at Westminster Careers Service. She then joined the School Curriculum and Assessment Authority in 1996, which later became the Qualifications Curriculum Authority and Qualifications Curriculum Development Agency. During this period, Margaret held a number of qualification and national curriculum reform programme roles supporting a range of new policy initiatives such as Curriculum 2000. As Head of Diploma Support Margaret was involved in an extensive programme of guidance and support to schools, colleges and Local Authorities on 14-19 qualifications. Margaret has also served as the Chair of the charity Futureversity, based in Tower Hamlets, which provides support to young people aged 11-25 to develop skills and raise their aspirations. She has been a Local Authority Governor of two London Secondary Schools and is currently a Governor at All Saints' Academy in Cheltenham. Margaret has also served on the Education Committee of an awarding organisation responsible for delivering ESOL qualifications.
Emily Campbell, Director of Programmes, Creative Education Academies Trust

Emily Campbell is Director of Programmes at the Creative Education Academies Trust and author of the innovative design programme that distinguishes a growing family of schools in the Midlands and East Norfolk. This programme integrates and supports academic work in core subjects such as English, maths and science, and across the wider curriculum, by encouraging students to think rigorously about key concepts such as structure, pattern, meaning and performance in the natural and man-made world.
She came to Creative Education Academies from the RSA (Royal Society for the Encouragement of Arts, Manufactures and Commerce) where she directed a programme to investigate how learning design skills could help people and communities become more resourceful and self-reliant. As the British Council Arts Group's Head of Design & Architecture for twelve years, she commissioned events and exhibitions all over the world on behalf of the United Kingdom's leading agency for international cultural relations.
Earlier in her career, she was a graphic designer at Pentagram in New York, and a pattern-maker for the fashion designer Jean Muir. She studied English at Cambridge, Clothing Technology at the London College of Fashion and Graphic Design at Yale School of Art.
Suzy Alderson, Head of Product and New Business Development, AQA

Suzy joined us just over 4 years ago as the Head of Product & New Business Development and is also leading our GCSE and A-level reform programme. Suzy has worked for a number of International companies and prior to joining us was the Executive Director of the Young People's Enterprise Forum, which worked closely with Government departments, universities, schools, colleges and employers to foster a culture of enterprise in young people.
Conference tweets
#AQACEC15
AQA will be tweeting throughout the day. We encourage you to tweet from both your personal and organisation's accounts to talk about the Creative Education Conference. We will be tweeting from @AQA and would be grateful for retweets from your account(s). Please use the hashtag #AQACEC15 for all tweets related to the Creative Education Conference.
If you would like further information, or want to support this year's event, please contact the Creative Education Conference team on 01483 556 482 or at creative@aqa.org.uk