Wednesday 21 Mar 2018
AQA's Chief Executive, Professor Toby Salt, delivered the opening keynote speech at this year's British Schools in the Middle East (BSME) annual conference.
The speech explained the main education reforms in the UK and looked at how they might affect schools teaching a British curriculum in the Middle East.
Founded in 1982, one of BSME's key aims is to share information with school leaders in the region regarding changes in the UK education system and their impact overseas.
The theme of this year's conference was Leadership, Assessment and Innovative Curriculum. Professor Salt was representing OxfordAQA, the joint venture between AQA and Oxford University Press, that provides qualifications to schools teaching a British curriculum around the world.
Speaking about the conference, Professor Salt said:
"Exam reform in the UK means students will be emerging with more rigorous qualifications, and be better equipped and more experienced in taking high-stakes exams. Schools in the Middle East need to be in step with that and BSME is the ideal way to spread that message.
"OxfordAQA exams are tailored to students in British curriculum schools in the Middle East. And with AQA's 100 years of assessment expertise, our international exams give students of all abilities the best opportunity to perform well and achieve their potential."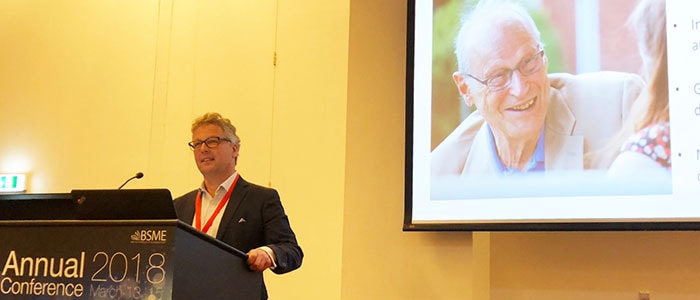 AQA's Chief Executive, Professor Toby Salt, addressing the 2018 BSME conference