AQA hosts 2014 Creative Education Conference
Published: Wednesday 12 Feb 2014
Leading figures from the world of creative education will meet today to examine its role and how to improve qualifications for 14-19 year-olds studying these subjects at AQA's Creative Education Conference.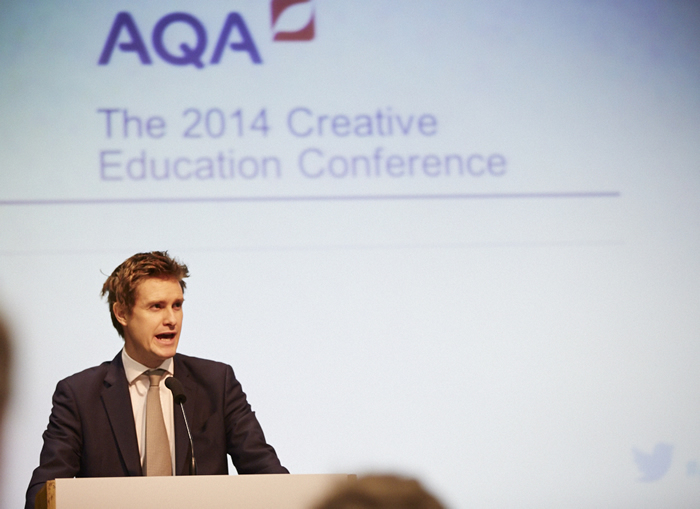 Speakers at the Institute of Education include Labour's Shadow Education Secretary Tristram Hunt and AQA Chief Executive Andrew Hall who will discuss how teaching and assessment can positively shape the future of creative education. Panellists include representatives from UCAS, Ofqual, Arts Council, NESTA and Creative and Cultural Skills.
The conference features a number of workshops including one looking at how digital technology is having an impact on the teaching and learning of creative subjects.
Experts representing teachers, lecturers, employers and awarding body AQA are expected to share the latest thinking, policy and practice and take part in a series of workshops including future projects on the design of innovative creative qualifications and the roles of industry and higher education in supporting creative subjects and education. Sponsors of the one day event include, Nokia, Siemens, EA Games, Really Useful Theatre, Philips and the Design Council.
Suzy Alderson, AQA's Head of New Business and Product Development, said: "AQA has established this annual conference as we believe creative education should be a feature of all school and college students' educational experience.
"We are working closely with teachers to ensure that we design qualifications and a curriculum for creative subjects that work in the classroom. We want to inspire new thinking and new collaborations between industry, higher education and schools that will support a high quality creative education both now and in the future. That is why this conference is represented by the leading thinkers across the education and industry sector."
For further details visit the Creative Education conference page.