Friday 13 Jul 2018
AQA's Director of Research and Compliance, Alex Scharaschkin, addressed this year's IntoUniversity annual conference.
AQA partnered with IntoUniversity to sponsor their 2018 conference – The Geography of University Access.
IntoUniversity is a leading social mobility charity focused on increasing attainment and university participation in communities with low participation rates. Their programmes are delivered through dedicated centres in target areas, and are built around mentoring, academic support and giving students an experience of university.
The conference brought together senior representatives from universities along with funders and influencers in the sector to ask how we can collectively respond to the geographical disparities in university participation.
The keynote speech was delivered by Sam Gyimah MP, Minister of State for Universities at the Department for Education. The Minister emphasised the need to start early with students in poorer areas, and said that IntoUniversity are leading the way in demonstrating what can be delivered by working closely with those who shape the expectations of young people.
Alex Scharaschkin took part in the second panel session of the day and discussed research by AQA's Centre for Education Research and Practice (CERP) which shows 'hyper-local' variations in attainment among different geographical areas. Alex also shared insights from AQA's research into how student responses to individual questions can vary by demographic characteristics.
The conference had around 100 attendees from across the Higher Education sector, government departments, 'widening participation' charities, the Office for Students and various education think-tanks such as LKMco and WonkHE.
Speaking at the conference, Alex said:
"AQA's charitable purpose is to help young people realise their potential. We want every student to make the most of their grades, which are their passport to future opportunities"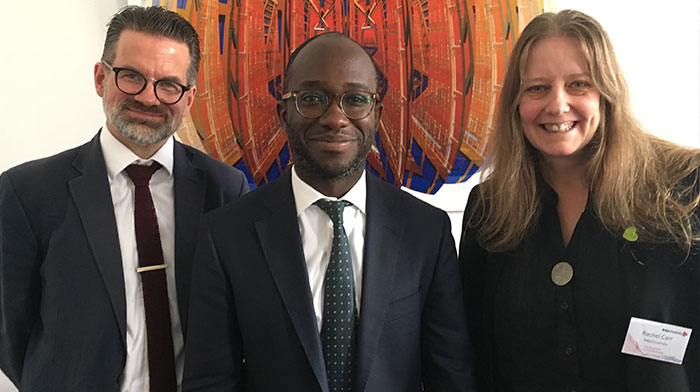 Pictured from left to right: Alex Scharaschkin, AQA's Director of Research and Compliance; Sam Gyimah MP, Minister of State of Universities at the Department for Education and Dr Rachell Carr, CEO of IntoUniversity.