AQA plants a tree in Guildford for 'The Queen's Green Canopy'
Published: Wednesday 1 Jun 2022
We've planted a tree for 'The Queen's Green Canopy' to celebrate Her Majesty's Platinum Jubilee.
The Queen's Green Canopy is a unique tree planting initiative created to mark Her Majesty's Platinum Jubilee in 2022, which invites people from across the United Kingdom to "Plant a Tree for the Jubilee".
Alison Feist, from AQA's People Group team, originally came up with the idea to get involved. Aaron Cooper and colleagues in Guildford's facilities team then worked with our grounds maintenance contractors and put the plan into action.
Alison explained:
"AQA had planned a tree planting/environmental project for the Guildford office in conjunction with the University as part of our car park resurfacing project, and I wondered if it was possible for AQA to plant a tree for The Queen's Green Canopy to celebrate the 2022 Jubilee.
"I suggested a small tree that could go alongside our building in the maintained border by the main footpath, or a larger tree in our car park/copse area.
"We worked with the grounds maintenance team who recommended planting a cherry tree at the corner of the Guildford office, and the tree was planted on 1 March this year – we were especially lucky to see pink blossom in its first season of planting.
"We're delighted that our Jubilee tree planting has been uploaded to The Queen's Green Canopy map, and to be part of an initiative to create a greener UK and a legacy which will benefit future generations."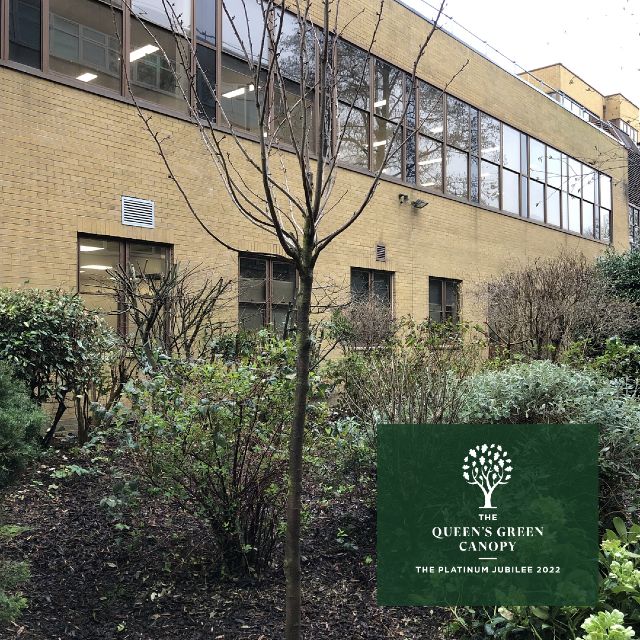 Our newly-planted cherry tree at AQA Guildford