AQA Unlocking Potential graduates celebrate at the Gherkin!
Published: Thursday 7 Jul 2022
AQA Unlocking Potential graduates celebrated completing the programme in style at Searcys on the top floor of the Gherkin in London this week.
Young people and teachers from across the country attended a special celebration event to mark the end of this year's programme and receive their certificates and goody bags.
They were joined by their athlete mentors from the Dame Kelly Holmes Trust, members of AQA staff who volunteer on the programme, some special guests, and executive members and trustees from both organisations. It was also a special day for the AQA Unlocking Potential, as this year marked the tenth anniversary of the programme!
The day started with some games and activities, which boosted the energy levels and created a real buzz, before the awards ceremony began after lunch.
Adam Whitehead, former Olympic swimmer and Trust athlete, led the afternoon's proceedings which opened with a greeting from Shabnam Shahani, AQA's Executive Director of Strategy and Business Development, followed by a short video about AQA Unlocking Potential and its impact over the last ten years. The young people were then called up school by school with their athlete mentors, to receive their certificates and goody bags, that also included a £20 Amazon voucher!
We were also joined by a former graduate of the programme, Haleemah Farooq. Haleemah, who is visually impaired, took part in the very first AQA Unlocking Potential and is now a barrister. She came to share her inspiring story with the young people on this year's programme and how it helped her overcome challenges she has faced.
We ended the day with the outstanding achievement awards. Two young people were presented with a special prize, which they were nominated for by their athlete mentor, for their outstanding contribution and progress they have made over the last seven months.
Shabnam Shahani, who is also the executive team sponsor for AQA Unlocking Potential, said:
"It was a fantastic day and everyone thoroughly enjoyed themselves, a perfect way to celebrate ten years of this amazing partnership between AQA and the Dame Kelly Holmes Trust.
"Following the progress of the young people on AQA Unlocking Potential over the last seven months has been truly inspiring, they've overcome their own personal challenges and delivered incredible social action projects that have had a real impact in their local communities, and supported some very worthy causes.
"It's an amazing programme to be part of and the athlete mentors work wonders with their young people. They inspire and motivate them to achieve things they never thought they could and truly help them realise their full potential."
Ben Hilton, CEO at the Dame Kelly Holmes Trust, said:
"What an amazing day at the AQA Unlocking Potential celebration event at the Gherkin in London. Every year the impact of the programme on young people seems to get bigger and better! We're thrilled to also be celebrating 10 years of partnership with AQA, and are so proud of everything we have achieved together in schools across the country.
"It's brilliant to know we've supported over 600 young people in those ten years, and after meeting many of the 80 students who took part in this year's programme it's clear to see the positive impact working with their athlete mentors has.
"The support from these role models, and the skills they learn during the programme will help them move onto the next phase of their lives with increased confidence and raised aspirations."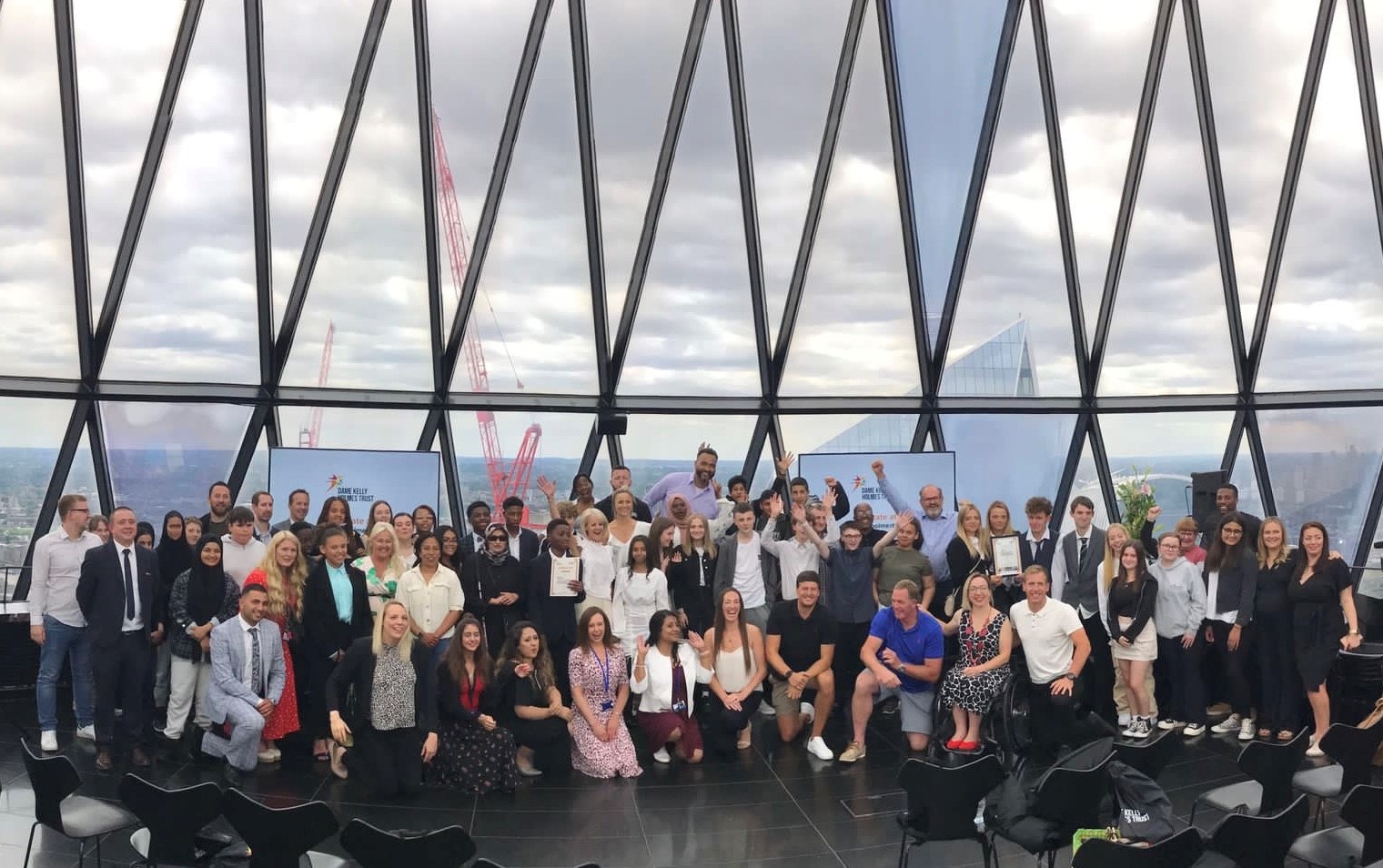 AQA Unlocking Potential graduates on the top floor of the Gherkin in London.