Tuesday 11 Dec 2018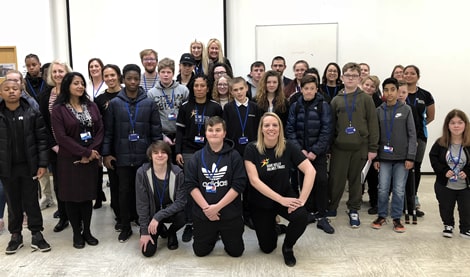 This year's AQA Unlocking Potential mentoring programme got off to an exciting start with launch events held in the AQA Guildford and Manchester offices. Students and their teachers, from schools across England, were welcomed to the event by AQA staff volunteers.
AQA Unlocking Potential provides mentoring for young people aged 11 to 19 who have faced personal challenges or disadvantages. AQA runs the programme jointly with the Dame Kelly Holmes Trust. Now in its eighth year, AQA Unlocking Potential has gone from strength to strength, and this year is supporting 80 students across 20 schools. Students are paired with specially trained mentors who have competed at world-class sporting events – including the Olympics and Paralympics – and have overcome their own significant personal challenges. The mentors provide personal mentoring for the students over eight months to help unlock hidden attitudes and skills. They'll also help the students to deliver a social action project towards the end of the programme.
At both events the young people started the day off with introductions and some fun ice breakers, before moving on to some of the more challenging team activities. Students also had a chance to meet their mentors for the first time. In the afternoon, they sat down with their mentors, specially trained current and ex-athletes from the Dames Kelly Holmes Trust. They heard their mentors talk about some the difficulties and barriers they had faced in their own lives before achieving success in their chosen sports. The mentors for this year's programme include former England and Great Britain Boxer Hannah Beharry, Commonwealth Gold medallist Claire Bennett and Olympian swimmer James Kirton.
Janice Norman, teacher coordinator at Park Community School who are taking part in this year's AQA Unlocking Potential, said:
"Absolutely superb day for the students from Park Community School who have been so privileged to be selected for the AQA Unlocking Potential Programme. The students were delighted to meet Hannah Beharry who is going to be their mentor for this. A massive thank you to everyone involved in this program, but more especially to AQA and Dame Kelly Holmes for making this happen. You cannot believe how much this will impact their lives and all the pupils at our school. Thank you so much for this opportunity."
Jasmine Bone, a student at Park Community school, said:
"We are so excited to have been selected out of all the schools and colleges...only 80 students selected! We really could not believe it when we were selected! We all shouted with excitement! So did our teacher Mrs Norman and my parents! How lucky are we! Thank you AQA and Dame Kelly Holmes trust – very very happy you have made our year!"
The launch events were supported by AQA staff from the Guildford and Manchester offices, who got to know the young people and took part in the day's activities with them. Jenitta Jeyathurai, one of the AQA staff volunteers, said:
"It's fantastic to be able to support AQA Unlocking Potential, we had such a great day getting to know the students on the programme and helping to bring them out of their shells bit by bit as the day went on. I can't wait to see their progress at the mid-point events next year."
If you're interested in nominating students from your school or college for the 2019/20 programme, follow @AQA on Twitter for updates.