Tuesday 12 Jun 2018
Staff from AQA's Manchester office visited a local school to help out with some much-needed improvements to the children's outdoor learning environment.
AQA staff volunteered to spend two days at St Philip's CE Primary School, in Hulme, Manchester, helping to transform their outdoor areas.
They built a new wildlife pond, raised and weeded flower beds in the kitchen garden for growing vegetables, gave the old benches a fresh coat of paint and created a new cycle track for five year-olds.
The staff and children were absolutely delighted with the work and the lovely bright colours, and parents have commented on how much of a difference it has made to the school.
The children are now looking forward to growing their own vegetables (and eating them) and to seeing what wildlife visits the pond.
The volunteers were treated to a buffet lunch with the staff including lots of homemade treats.
Headteacher Paul Edwards was very pleased. He said:
"When I was offered volunteer assistance at my school by AQA employees I was overjoyed. My small school in the heart of Manchester sits in an area of very high social deprivation and the children have had little in the way of community support over the years.

"When AQA staff said that they could come into school to do some work for us, a long list of possible projects was very soon drawn up, and over the two days of visits they worked very hard indeed.

"We now have a wildlife pond, a new bike track for five year-olds, refurbished raised beds for a kitchen garden, and rainbow painted benches in all our playgrounds. This is in stark contrast to the tired and dilapidated resources which we had prior to the visits."
AQA staff had also been donating books to the school. Mr Edwards added:
"We would like to thank all the volunteers who helped transform our school as well as those kind people who donated books so that our very small and forlorn library now has over 300 books!

"To the staff at both Manchester and Guildford offices: thank you all so very much. Your kindness has made a real difference to young children living in often difficult circumstances and you have really made a difference to this school. The children are now proud to say "Welcome to St. Philip's".
AQA volunteer Matt Allen said of the day:
"The whole experience was very uplifting and being able to make such a difference to the school and hopefully improve the children's time there is fantastic.

"We are all aware of the challenges faced by schools in deprived areas, and this was something simple AQA staff could do to help that would make a real difference.

"It was hard work, but all the AQA volunteers involved really enjoyed helping out and as the day went on we found a few extra things we could do to help improve the outside areas.

"What was really good was to see all those smiling faces when we unveiled the completed work and we are now looking at other schools in the area that we can help."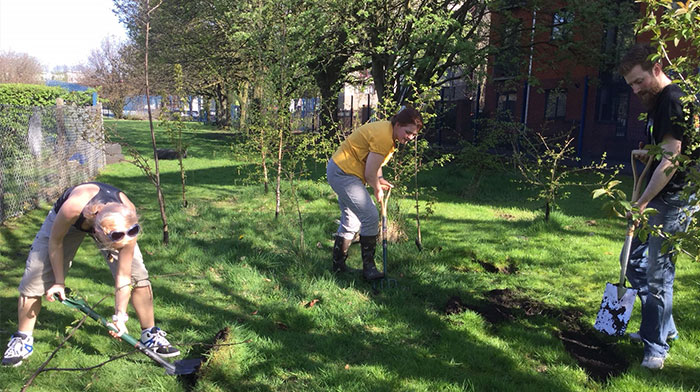 AQA volunteers digging the wildlife pond