Historic collaboration links AQA with the British Museum
Published: Friday 6 Jun 2014
Leading provider of qualifications, AQA, is helping teachers to bring more creativity into the classroom by partnering with inspirational venues including the British Museum and Kew Gardens.
A recent association with the British Museum saw 30 teachers of A-level History of Art sign up for two bespoke courses on Sculpture.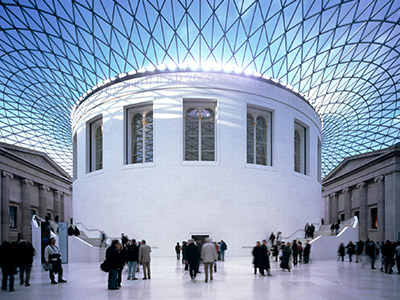 A new course - Understanding and Interpreting Architecture - will be delivered by AQA on 24 June 2014 and is aimed at teachers wishing to combine art history and art design.
Earlier courses hosted at the British Museum, led by specialists and expert curators of various periods, allowed teachers to explore the museum's classical collections, key objects in the Medieval collection and experience first-hand works on paper by Leonardo da Vinci and Michelangelo, artists they usually study in the classroom.
The one-day courses complement a wide range of on-line, bespoke and face to face resources which have also been developed by AQA's art and design team. The Art and Design community page gives an overview of the finest, leading art institutions and galleries which have all been recommended by fellow teachers and designed to enhance students' learning.
Dr Sarah Longair, Schools and Young Audiences Education Manager at the British Museum, said:
"Running two courses on Sculpture in collaboration with the AQA exam board presented an excellent opportunity to show A- Level History of Art teachers the breadth of the Museum's collections.
"The teachers were introduced to several key objects in our Medieval collections which offered new ideas for teaching this period. In the Prints and Drawings Study Room, we studied closely a selection of sculptors' drawings, from Leonardo and Michelangelo to Rachel Whiteread and Barbara Hepworth.
"Having access to the rich resources of the Museum's collections has also helped to inspire new ideas for teaching different historical periods and encouraged teachers to bring pupils in for lessons and visits."
Head of Visual Arts, Charly Loweth, from The Arts Educational Schools London who attended a course at the British Museum in February, said:
"I found the course really interesting. The speakers were fabulous and their passion for the subject matter was infectious. The content was highly relevant and accessible and the Museum's objects and collections were equally fascinating. I now feel much more confident in discussing Romanesque and Gothic sculpture and will be encouraging more students to visit."
Other partnerships, coordinated by AQA's creative and continuous professional development teams, have included computing courses held in partnership with Naace. The teams are currently exploring potential links with galleries which can provide enriching developmental opportunities for teachers and students alike.
AQA Qualifications Developer, Linda Wakeling, said:
'It was a great experience working so closely with the British Museum education officer and the curators to offer these events to teachers. We knew that teachers would be inspired by them and would take what they had learnt back to the classroom. Their feedback has confirmed this. We would like to work more closely with museums and galleries to offer similar events around the country."
The 'Understanding and Interpreting Architecture' course will be led by Graham Whitham, former Chief Examiner for AQA A-level Art History. Graham wrote the new specification and currently teaches Art History at the University of Kent.
He is also the author of two books on Art History aimed at A-level and undergraduate students: 'Understand Art History' and 'Understand Contemporary Art', published by Hodder.