Mitch Winehouse judges Ilford school charity talent show
Published: Tuesday 10 Dec 2013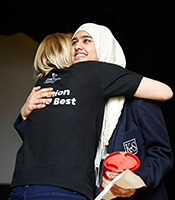 Ilford teenager Iqra Chaudhary has raised over £300 for charity with a talent show at King Solomon High School. Iqra planned and organised the show at her school as part of the Unlocking Potential mentoring programme, which is run jointly by education charity AQA and the Dame Kelly Holmes Legacy Trust. The money raised by the event will go to the Hopes and Dreams charity and Mitch Winehouse, father of the late Amy Winehouse and the charity's patron, was a special guest and judge.
Iqra was nominated for the Unlocking Potential programme by one of her teachers and was selected as one of 20 young people to take part in the six-month intensive mentoring programme. The scheme, now in its third year, aims to help unlock the potential of young people aged 14-19 who have shown commitment and integrity in the face of challenging personal circumstances. The young people are partnered with athlete mentors and Iqra's mentor is Commonwealth Games fencing gold medallist, Claire Bennett.
The talent show, which included singing, dancing and rapping, had an X-Factor style judging panel featuring Claire Bennett, Mitch Winehouse, Councillor Tania Solomon, the Deputy Mayor of Redbridge Council, and Ruth Salahi from the Hopes and Dreams charity.
Mitch Winehouse said: "I'm really impressed by the talent I've seen here today. Amy started off singing in school shows like this one, but she often didn't win them. It just shows that even if you're not the best right from the start, it is worth persevering as you never know where your talent will lead."
In her speech at the event, Iqra said: "I think I've really grown up on the Unlocking Potential journey and I think I'll be a better adult as a result of it. I want to thank Claire for being such a great mentor and my teachers who have supported me."
Teachers can now nominate students for the 2014 Unlocking Potential programme. The closing date for nominations is 17 January 2014. Please visit the Unlocking Potential website page for updates and information on how to nominate a student.