Thursday 14 Jul 2016
AQA and the Dame Kelly Holmes Trust held a celebration event this week to honour the achievements of the 72 students who completed the transformational AQA Unlocking Potential mentoring programme this year. AQA and the Dame Kelly Holmes Trust deliver the programme together.
The young people, who were nominated by their teachers, were recognised for their outstanding achievements at the event in central London.
AQA Unlocking Potential uses world-class athletes to empower young people facing disadvantage to make positive life choices. Students also deliver a range of projects which benefit their local communities. This year, projects included a mental health awareness day, an arts and crafts space for students with learning difficulties, and a day of activities in an elderly home to combat isolation.
Olympians, Paralympians and other world-class athletes who have mentored young people on this year's programme also attended the event. This included London 2012 Team GB swimmer James Kirton, England Badminton player Jenny Wallwork, and European skating champion Rich Parker.
Sadie Visick, AQA Director of Corporate Affairs, said:
"It's hard to believe we are now in the fifth year of AQA Unlocking Potential and it's been incredibly rewarding to see more students achieving great things than ever before. We're extremely proud of them and how they have made the most of this opportunity to develop their skills and confidence.
"None of this would be possible without the support of the teachers who took the time to nominate their students in the first place, so as well as congratulating the students, I'd like to send my heartfelt thanks to the teachers who support them day in and day out."
Dame Kelly Holmes said:
"It's fantastic to see how much these young people have achieved over the last year through the AQA Unlocking Potential programme. I strongly believe that it can take just one person to change the course of a young person's life – just like my PE teacher, who identified my talent for running and believed in me.
"I wish each and every one of them all the best for the future as they go on to be the best they can be."
Since it began five years ago, AQA Unlocking Potential has provided in-depth mentoring to over 200 young people. As a result, they have:
planned and delivered over 80 projects in their local communities
reached out to nearly 12,000 more young people by involving them in delivering the projects
and raised more than £15,000 for charity.
Nominations for AQA Unlocking Potential 2016/17 will open in September 2016. Please check our website for further details.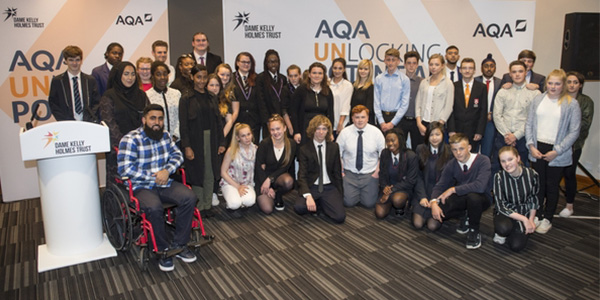 Students from AQA Unlocking Potential 2016 celebrate taking part in the programme