Switchless App wins AQA Computer Science competition
Published: Monday 14 Jul 2014
A pupil who was inspired to design an app to control domestic light switches has been announced as the winner of AQA's first Computer Science competition.
The leading provider of GCSEs and A- levels launched the competition in March 2014 for students aged between 11 and 18.
Mark Towers, 15, a year 10 computer science student from Acton in London won the leading prize for a wireless app he created called Switchless which controls light switches to improve energy efficiency.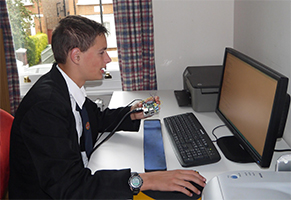 The idea came whilst he was holding his phone watching TV and contemplating switching the light off. Mark, who attends Twyford Church of England High School in Acton, said: "I wanted to switch off the light in the room, however I was really tired and did not want to get off the sofa.
"My project was simple at the start. However, as the project developed I realised that it was more complex and that I needed to change my original design. All of the major aspects of the project were things that I haven't yet learnt in school like creating GUIs, threading, sockets and interfacing the Raspberry Pi with the computer program.
"These were all new aspects of Python programming that I haven't yet covered in school so I needed to go outside my comfort zone which is something I really relished and enjoyed researching. I'm dyslexic which means that I find written English and languages difficult to learn. However, my brain seems to be suited to the logical and creative sides of programming."
The competition was also sponsored and judged by the University of Warwick and e-skills UK.
Matt Leeke from the University of Warwick said Mark's entry was a "blend of technical quality, original thinking and application focus."
Other ideas put forward by entrants included improvements to audio headsets for the sight impaired and robotic carers for the elderly. The prize sponsor, Capgemini, will now design a bespoke industry experience prize, created around Mark's interest and career development.
AQA's Computer Science Qualification Developer, Suzanne Oates, said: "Congratulations to Mark who has come up with a really great idea and practical method of embracing technology resulting in a working solution. We are delighted with the range of entries and particularly the originality of students' ideas."