Monday 7 Jan 2019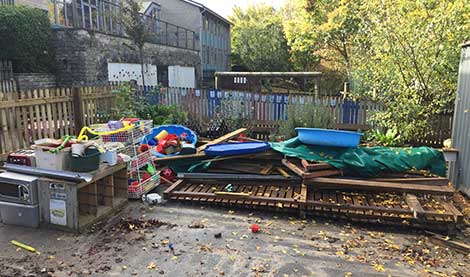 Before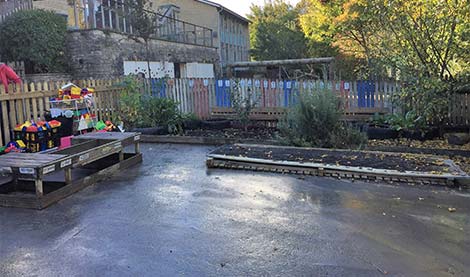 After
Staff from Teachit, part of the AQA family, volunteered at a local infant school, giving their outdoor space a make-over and preparing their new nursery.
The team gathered at Twerton Infant School in Bath, where Teachit is based, and got to work clearing up the learning playground. They got stuck in straight away and were busy painting fences, moving furniture, unpacking boxes and cleaning the classrooms and equipment. They also did some gardening, clearing fallen branches and sweeping leaves from the main playground.
The volunteers were also responsible for transforming the brand new nursery. They cleaned it up, organised all the toys and equipment and got the space ready for all the pre-schoolers.
George Samios, Head teacher of Twerton Infant School & Nursery, said:
"We are incredibly thankful for the two days' of volunteering that Teachit gave us. On the first day of fence-painting the team managed to complete a phenomenal amount. We set what we thought was an overly ambitious target which they managed to achieve. Their "can do" attitude and commitment to the task was uplifting.
"Many of our staff commented on what a lift it brought to the school. The second day, which was a soggy Friday, the crew again rolled up their sleeves, shifted boxes, cleared up messy areas, mopped floors and helped to set up our new nursery building ready for the new term. There was nothing glamorous about that day's graft, but it was a most welcome gift to our school.
"At a time when there are increasing pressures on schools and schools are facing difficult financial decisions, your kindness and support means a lot to all of us. Again, thank you to everyone who came along to help. We will let Santa know to put you on the Good List."
Victoria Humphries, Head of Teachit, said:
"The day made a really positive contribution in terms of our collective wellbeing, and reminded us of how important it is to give something back to our community. It was incredibly messy but rewarding work, and we thoroughly enjoyed spending time working together in the great outdoors.
"It was a reminder of how dependent schools are on their local communities, and we were delighted to give our time to such a worthwhile cause."
Teachit publishes resources made by teachers for teachers. For more information about Teachit, please visit their website: www.teachit.co.uk/family