Top scores for AQA Community Project
Published: Tuesday 22 Jul 2014
A Waltham Forest College pupil has successfully led a basketball tournament between two local east London primary schools, as part of the AQA Unlocking Potential programme.
Ross Fernando, 16, is one of 22 young people selected for the eight month mentoring programme run by leading exam board AQA and the Dame Kelly Holmes Trust.
Since March Ross has been mentored by Taekwondo champion Romaine Bailey, who supported Ross in hosting the event on 16 July at SportsDock, the University of East London's sporting facility. Over 40 pupils from Buxton and Mayville primary schools took part.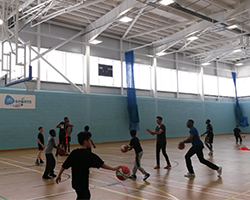 Ross' teacher, Jonathon Constable, said: "I'm really impressed with how Ross has made this project happen. He really put a lot into it, and as a result his confidence has grown."
Another teacher, Vladimir Netty, said: "Ross hasn't had the easiest start in life. He's been dealt a tough hand but he's not the sort of guy who will use that as an excuse for not trying. And here's the proof. Today has been a fantastic success and it's all down to his hard work. He really put a lot into this and look at the outcome. There should be more programmes like this – as sometimes it's just that helping hand that's needed to really make a young person shine."
Athlete mentor, Romaine Bailey, said: "As an athlete mentor today has been a really proud day. To see Ross's project come to fruition after all the hard work he has put in is fantastic. It's what the Unlocking Potential programme is all about. Us athletes working with young people one to one, to work on confidence and other skills that will come in useful throughout life."
After Ross' father passed away when Ross was still very young, he was taken into care. At this time he found school a challenge, and regularly skipped lessons.
Ross, who previously attended Mayville primary school said: "I feel like I'm back on track now. Working on this project has given me opportunities I would never have had otherwise. Romaine is a good guy, and he's helped me a lot. I'm really proud of how well my community project went today. It was a lot of planning and hard work, but it all came off. It's nice to think that the kids here from my old primary school look up to me as a kind of role model. I'm now planning to carry on working hard at basketball, as I love it, and I'm also starting a plastering course at college in September."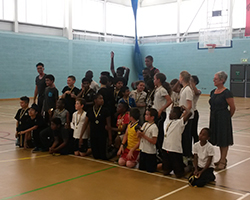 AQA staff volunteer Atif Warraich was also there to support the community project, and kept scores during the basketball tournament. He said: "It has been brilliant to see how well Ross has done today. I remember how he was at the start of the Unlocking Potential programme. He would be looking down at the floor, really unsure of himself. And here he was today confidently leading a session with about 40 young children, which is not easy. He's such a great character and I know he'll go far."