Enrichment providers
There is an ever-growing range of enrichment providers. To save you time, we've provided details of some providers who offer a variety of activities. If you're working with other organisations, they can contact us on bacc@aqa.org.uk to be added to our list.
The following list of possible enrichment activity providers is for information only, is intended only as an indication of what is appropriate and is not an exhaustive list. AQA does not in any way endorse any of these providers and is not in any way responsible or liable for the content of any third party website.
Work-related learning providers
Education and Employers Taskforce
Charity the Education and Employers Taskforce runs two free programmes to actively promote education and employer engagement. These are Inspiring the Future and Speakers for Schools.
Inspiring the Future
Inspiring the Future is a new free service which will see people from all sectors and professions volunteering to go into state secondary schools and colleges to talk about their jobs, careers, and the education routes they took.
Everyone from CEOs to apprentices can volunteer for Inspiring the Future. Recent graduates, school leavers and people in the early stages of their career can be inspirational to teenagers - being close in age they are easy to relate to; while senior and recently retired staff have a wealth of knowledge and experience to share. Volunteering for Inspiring the Future is free, easy, effective and fun.
Volunteers and schools/colleges are connected securely online, and volunteering can take place near home or work as you specify the geographic locations that suit you. Criminal Records Bureau checks are not needed for 'career insight' talks.
Registration is now open for Inspiring the Future at http://www.inspiringthefuture.org/.
Speakers for Schools
Speakers for Schools was launched the week of 10 October 2011 with a series of talks in state secondary schools and colleges around England. It is the idea of BBC Business Editor, Robert Peston, who wants young people in disadvantaged state schools and colleges to have the same opportunities to hear from inspirational speakers as those who attend top independent schools. The idea is to level the playing field and for it to become the norm for leaders in their fields to give talks in state schools and colleges: http://www.speakers4schools.org/.
In January 2012 Speakers for Schools arranged for Microsoft's Bill Gates to talk to pupils at Deptford Green School in south London. Speakers who took part during launch week included: George Alagiah (BBC News), William Boyd (author), Damon Buffini (business leader), Sir Suma Chakrabarti (Ministry of Justice), Marcus Davey (Roundhouse theatre), Martha Lane Fox (founder Lastminute .com), Andy Haldane (Bank of England), Julia Hobsbawm (media entrepreneur) , Laurence Hollingworth (J.P. Morgan,) Ruby McGregor-Smith (FTSE 250 CEO), Sir John Parker (Royal Academy of Engineering) , Robert Peston (BBC), Trevor Phillips, (Equality & Human Rights Commission), Dame Marjorie Scardino (Pearson), Philipp Schindler (Google), Lord Rees (Astronomer Royal) and Baroness Vadera (former cabinet minister). Also taking part from the world of government and politics were: David Cameron, Nick Clegg and Ed Miliband.
Education and Employers Taskforce Research
A key priority is to ensure that policy and programme delivery is informed by high quality research on the most effective and efficient means to engage employers with education. Access to high quality evidence provides a primary means to influence government policy.
Young Enterprise
With more than 5 500 schools, colleges and universities participating in its programmes, Young Enterprise is the UK's leading business and enterprise education charity.
The Young Enterprise Company Programme offers students aged 15 to 19 the opportunity to set up and run their own real company over the course of one academic year, with the support and guidance of a volunteer adviser from business. Students take on roles within their company, raise share capital, market and finance a real product or service of their own choice and trade with the public.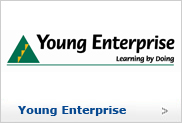 Through participating in the Company Programme, students develop their enterprise knowledge and understanding, skills and attributes in a real business context. They learn by doing, coping with a changing and evolving business, developing essential skills such as teamwork, communication, problem solving, managing risk, creativity, innovation and leadership. Each company is supported through their year by a trained Young Enterprise Business Adviser, guidance materials and an innovative new online suite of business and communication tools.
Visit the Young Enterprise website for more information about the Company Programme.
Career Academies UK
Career Academies UK brings together employers and schools to prepare young people for the world of work. We run a structured programme of paid internships, mentoring by employer volunteers, master classes and workplace visits in more than 150 schools and colleges across the UK, to give 16 to 19-year-olds the ambition and skills they need for a successful career.
Our students are largely middle-achieving, from poorer urban areas, with little family experience of higher education or connections to business.
Our charity is supported by more than 1,400 employers, from small businesses to major multi-nationals, including nearly one third of FTSE 100 companies.
We are business-led and our programme is based on regular contact with business so that students understand the behaviour and attitude - as well as the academic success – necessary for success at work.
More than 85% of our students progress either to university or directly into employment or work-based learning such as apprenticeships or school-leaver programmes.
To find out more, visit the Career Academies website.
Community participation providers
National Citizen Service (NCS)
The main NCS programme is a once-in-a-lifetime experience delivered over 2–4 weeks in Summer and Autumn for young people aged 16–17 with four phases:
Phase 1: "Adventure" Young people stay away from their local area and take on challenges in an outdoor environment, with a focus on developing confidence and team building
Phase 2: "Discovery" Young people again stay away but closer to home, typically at a university hall of residence, building independence (often cooking and budgeting for themselves), developing new skills and finding out more about their own talents and the needs of the local community
Phase 3: "Social Action" Young people are back at home, but continue to work in their teams to give something back to their community by planning and delivering their own 30 hour social action project. Upon completion of the programme, each participant and their parents or guardians are invited to a graduation ceremony to celebrate their achievements and receive a certificate signed by the Prime Minister.
Phase 4: "Extension" Ongoing opportunities to continue the NCS journey through further social action and volunteering, participation in regional and national Youth Boards, apprenticeship and job opportunities and more.
On this government backed programme, participants build skills for work and life, while taking on new challenges and adventures, making new friends, learning new skills and contributing to their community.
Amnesty International
Amnesty International
Amnesty International is a movement of ordinary people from across the world standing up for humanity and human rights. Our purpose is to protect individuals wherever justice, fairness, freedom and truth are denied.
If you want to take action on a regular basis, you can set up an Amnesty youth group at your school.
There are over 650 youth groups in the UK, who usually meet once a week. They play a vital role in our movement, promoting and protecting human rights.
What does an Amnesty youth group do?
Youth groups receive a monthly mailing packed with information, campaigning ideas and invitations to attend Amnesty events, such as film screenings, demonstrations and exhibitions.
Youth groups get involved in:
Organising fun events, gigs and creative campaigns
Writing letters to people who are unfairly imprisoned and government officials around the world
Making films about human rights and sharing them online
Running school assemblies
Getting people to sign petitions
Getting local press coverage
Lobbying local MPs
Fundraising
To register as an Amnesty youth group, go to www.amnesty.org.uk/youth.
Oxfam Water Week
Oxfam Water Week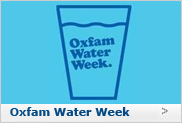 Oxfam Water Week gives students the opportunity to learn about global issues, develop their skills and values as active global citizens, and make a difference to the world.
Organising their school's Oxfam Water Week 2011 "was really beneficial as it taught us leadership, learning and awareness raising skills..." (Amy Jones and Katherine Burt, Sixth Form students).
Students are encouraged to take the lead in the organisation of Oxfam Water Week in their school. This gives them the opportunity to demonstrate key skills, including:
leadership
organisation
initiative
decision-making
community involvement.
Oxfam Water Week is structured to allow students to learn, think and act on issues of water vulnerability. At every stage they are encouraged to make their own decisions on how this looks in their school.
This might involve:
Teaching other students
Organising fundraising activities
Organising campaigning activities
Oxfam Water Week 2012 is supporting people in Niger to manage their scarce water resources, and seeking to raise awareness of the issue of water vulnerability. By leading Oxfam Water Week in their school, students are able to develop their own skills, demonstrate involvement in the local and global communities, and make a difference to the world.
For more information about Oxfam Water Week and how to get involved, visit the website at www.oxfam.org.uk/education/resources/water-week
Far Frontiers Expeditions
Far Frontiers Expeditions
Far Frontiers Expeditions successfully deliver truly amazing experiences all over the world for schools. Safe and challenging adventures designed to inspire young and fertile minds equipping them with the life skills that are invaluable for the future. Our expeditions expose them to the multitude of different experiences and cultures which teach them values, a real sense of responsibility and provides the foundations for developing their interests in the wider world. All our pupils feel a real sense of achievement and pride when they return from our expeditions.
Our unique Community Projects are carefully designed to provide education and longevity to our local villages in the developing world. For example – constructing poultry houses for over 100 chicks which in turn provides a source of food and income, to name only one of our amazing initiatives. We can provide an exciting opportunity and an experience you will never forget. To find out more please look at our website for details on our itineraries.
Duke of Edinburgh's Award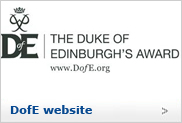 As a charity, our mission is to inspire, guide and support young people in their self-development and to recognise their achievements. The result is the world's leading achievement award for young people, valued by employers and universities alike. We support over 275 000 young people across the UK and over
65 000 achieve a Duke of Edinburgh's Award each year. Internationally, we work with over 700 000 young people in 127 countries.
About DofE programmes
Anyone aged between 14 and 24 can do a DofE programme at one of three progressive levels. There are four sections at Bronze and Silver level and five at Gold. Assisted by a DofE Leader, participants set personal objectives in each of the following areas:
volunteering
physical
skills
expedition
residential (Gold only).
Each section must be undertaken for a minimum period of 6–18 months. To achieve an Award, the activities must be monitored and assessed against targets set at the beginning.
"Doing my DofE has given me the opportunity to be more independent and I have more drive to do things, more motivation. It feels great to know that I've had such an impact on someone else's life through volunteering. This project is something special that I will always remember." Jeff, DofE participant
The Mentoring and Befriending Foundation
Peer mentoring
Peer mentoring is an excellent volunteering opportunity for students to make a real difference in their school and to their local community.
It is becoming an increasingly popular way for young people to expand their skills and knowledge, helping them to stand out from the crowd when applying for higher education or employment.
The Mentoring and Befriending Foundation can support staff and volunteers in setting up peer-mentor programmes, provide training for co-ordinators alongside mentors and offer ongoing consultation in best practice and development.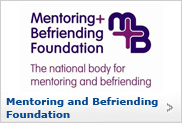 Helping others
Peer mentoring can help address issues such as:
attendance problems
risk of exclusion
achievement
lack of confidence
bullying.
Helping students
Becoming a peer mentor can help students to develop greater:
communication skills
solution-focused thinking
motivational techniques
empathetic skills.
Peer mentoring provides the opportunity to help others whilst helping you on the road to success.
African Adventures

African Adventures
African Adventures is a travel companywith a difference, providing meaningful and worthwhile volunteer experiences atour partner educational projects in Africa. Our school expeditions givestudents an opportunity like no other, with real cultural exchange and personaldevelopment benefits, providing great learning outside the classroom.
We work closely with groups that travelwith us, to ensure that we are tailoring our trips to their educational needsand wants. Our dedicated group teams are always there to support you alongyour journey and provide assistance with anything from fundraising ideas andparents evenings to paperwork and preparation. Furthermore, our safety recordis exemplary and our trips are offered at outstanding value for money.
African Adventures really care about makinga difference and we really care that you have the best experience possible.
Visit the African Adventures website for more information orcall us on 02381 780957.
Personal development providers
Amnesty International
Amnesty International is a movement of ordinary people from across the world standing up for humanity and human rights. See information in the Community participation section above.
Duke of Edinburgh's Award
The Duke of Edinburgh's Award provides opportunities for personal development. See information in the Community participation section above.
The Outward Bound Trust – Outdoor education specialists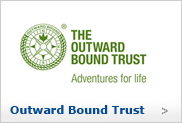 The Outward Bound Trust is an education charity with a long track record of providing challenging outdoor adventures for young people. Evidence strongly suggests these experiences raise aspirations, develop independence, discipline, team-work and confidence, as well as communication, leadership and problem-solving – skills that are in demand in the modern workplace and which underpin successful social development.
The true Outward Bound® experience is about getting out there and using the mountains, lakes, rivers and sea on our doorsteps as a classroom, to enable young people to see what they are truly capable of achieving in life. The Trust's centres are based in some of the most inspiring locations the UK has to offer: Snowdonia, the Lake District and the Scottish Highlands.
We have worked with schools for over 65 years, raising aspirations and achievement for many tens of thousands of young people. In 2008–9, over 25,000 young people benefitted from an Outward Bound® residential experience, 50 per cent of which received financial assistance through The Trust's bursary scheme.
For more information:
Outward Bound and the Compass Rose are both registered trademarks of The Outward Bound Trust.
World Challenge – Education through exploration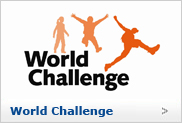 World Challenge provides educational expeditions in the developing world and closer to home, which teach life skills, stretch comfort zones and expand minds outside the classroom. Our bespoke 1 to 6-week expedition itineraries foster team and leadership skills and are the culmination of our pioneering programmes, which see young people involved in planning and fundraising their way to the experience of a lifetime.
We are 100 per cent focussed on education. Every programme we deliver is designed with the student's development in mind, making it a perfect enrichment activity.
With over 20 years of experience, students and teachers benefit from a level of safety and service second to none, while the activities and amazing expedition destinations guarantee an extraordinary adventure!
Visit our Website for more information or call 01494 427 671.
---