AQA/Greenpower award
We are working in association with Greenpower Education Trust to recognise and record the achievements of learners that have taken part in Greenpower's Science, Technology, Engineering and Maths (STEM) education programme. The programme is supported by Greenpowers' industry partners, IET, Siemens and Silverline.
Greenpower International Finals day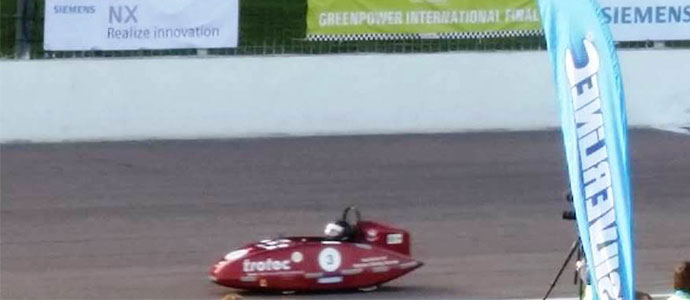 About the award
The AQA Greenpower Award pilot is being extended for the academic year 2017/18 in two race categories: IET Formula Goblin and IET Formula 24. Learners may claim up to three units each, and will receive a certificate for each successfully completed unit once Greenpower has verified and approved the claims.
Jeremy Way, CEO for Greenpower says
Greenpower Education Trust believes that providing young people with an exciting, real life project is the most successful way of sparking an interest in engineering, helping to address the serious skills gap the UK faces in this crucial business sector.

Our challenge, to design, build and race a single seat electric car uses the excitement of motor sport to inspire students from primary school through to university to excel in STEM studies.

Four age appropriate formulas enable young people to enter races using either kit cars or scratch built cars allowing them an insight into key engineering design and build processes. The Corporate Challenge also allows blue chip companies to participate with apprentice and graduate teams, with some truly innovative cars taking part.

Greenpower is entering an exciting period moving forward into the new academic year, as they have forged partnerships with highly recognised third party organisations. These will now enable students to gain official recognition for their participation.

One of the most exciting associations is with AQA education. A new AQA Greenpower Award has been established and certificates are available in two of the race categories for Design, Manufacture and Systems. This is being piloted in the 2015/16 academic year.

We believe that this package, which will be available to all young people participating in the Greenpower programme, will add tremendous value to all students with whom we work.
Case study: AQA success at Egloskerry!
Miss Rachael Torr, class teacher at Egloskerry Primary School, says:
Class 3 at Egloskerry Primary School immersed themselves fully into the Greenpower Goblin project in 2016 by completing an AQA Greenpower award alongside the building and making of the goblins.

The weeks leading up to the project were met with excitement and enthusiasm from all children who were keen to get stuck into the building and new learning. The AQA award provided the children with a platform to learn the key skills of science and engineering behind the practical side of making the goblins. The children were involved in evidencing team work, health and safety, how electrical circuits work, looking at a CAD system for the design side and many more!

In addition, the children could see a connection between the fun, practical side of building and the written work behind it and therefore were motivated to learn. They took ownership over how they wanted to present their work and worked together to support each other on areas they felt more confident in.

The award also encouraged those children who were happy to take a step back in the practical element to become more involved, as they knew they had to evidence each objective to gain the award.

From a teacher perspective, the AQA award materials provided a clear outcomes-based approach to planning a sequence of learning. At Egloskerry we decided to give every pupil a Goblin AQA workbook that they had complete autonomy over. The pupils were expected to self-evaluate and complete peer-to-peer learning and assessment to achieve the outcomes set by AQA. Interestingly, this resulted in some very high quality outcomes for pupils who regularly struggles to access 'normal' lessons and book work. Moreover, this approach freed up the teacher to focus on the practical element of the build with small groups.

Over the whole project, all children developed and learnt many invaluable, transferable skills which they can apply to a multitude of situations in the future, gaining breadth and depth of application. Impressively, all children passed the three aspects of the award and had that huge sense of achievement at the end!
Available units
Sample certificates
How to register
Registration for the pilot is limited. You can download a registration form below and this should be completed and forwarded to education@greenpower.co.uk
Once your registration has been accepted by Greenpower and AQA you will be issued with logon details for the AQA online processing system, Gateway. All claims for issue of award certificates must be made using this system and the claim form below and received no later than 31st July each year. Instructions and guidance on using Gateway is provided below together with administrative procedures for the award.
---