Archaeology (2010)
We are not developing new AS and A-level Archaeology qualifications due to government changes to A-levels.
This is our outgoing A-level specification, available for re-sits only.
The last exams for students taking the current qualification will be in the June 2018 series, with a final re-sit opportunity in June 2019, if required.
Find out more about these changes and which qualifications we are planning to offer in the future. You can also contact the customer support team on the details shown below.
---
Archaeology – the study of past human societies from the investigation of material remains – is one of the most exciting subjects in the curriculum. It is the ultimate subject for an 'all-round' student, in that it combines elements of many other academic disciplines, such as Science, Art, Technology, Geography, History, Sociology and Religious Studies.
The study of Archaeology challenges students to understand and use a range of evidence to draw substantiated conclusions and raises their awareness of the uncertainty of knowledge.
This four-unit specification requires students to develop their understanding of archaeological skills and methods, develop the skills of archaeological investigation, and organise and communicate their archaeological knowledge in a range of ways. The specification has 20 per cent coursework and is particularly suitable for students who wish to study Archaeology at a higher level.
---
Specification
The exams are now only in June due to Changes to A-levels.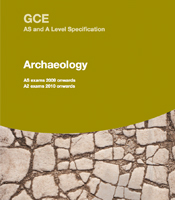 Key dates
Results for May/June 2019 available to schools/colleges via e-AQA and EDI for exams officers and heads of centre
Receive written feedback for May/June 2019 internally-assessed work
Results for May/June 2019 released to students
Codes and references
Qualification type
A-level
Specification title
Archaeology
Specification code
2010
Certification code
1011 AS
2011 A2
QAN codes
50022520
50022556
Updates to Archaeology (2010)
When there are changes to the specification, updates appear here.