The Oxford University Museums and Collections
Address: Oxford
The Oxford University Museums and Collections comprise six world-renowned collections, all of which offer rich and exciting opportunities for young artists to research.
The collections
The Pitt Rivers Museum holds an ethnographic collection of objects relating to magic and ritual, clothes and textiles, jewellery and body arts, masks, puppets, weapons, and much more – all set within an Aladdin's den of a building.
The Ashmolean is a museum of art and archaeology. Its European painting up to the Modern period and its Egyptian, Roman and Greek, Asian, and Middle Eastern artefacts are beautifully displayed amongst award-winning contemporary architecture.
The Oxford University Museum of Natural History holds an amazing collection of skeletons, taxidermy, mammals, fossils, and insects in a stunning wrought iron Victorian High Gothic building.
The Museum of the History of Science contains superbly crafted early scientific instruments in brass, glass, and wood housed in an atmospheric 17th century building.
And not forgetting the historic Oxford Botanic Garden with its glasshouses containing lilies, palms, and insectivorous and arid plants, or – a little further afield – the Harcourt Arboretum with its many acres of trees and meadow...
The free resources
The Oxford University Museums have a designated secondary art education officer who will answer queries and arrange workshops, sketchbook tours, bespoke visits, and exhibitions.
In addition to extensive online resources covering art, art history, and various cross curricular themes for KS3, GCSE, and A Level students, there is also a programme of holiday and weekend workshops aimed at helping students to develop their portfolios and experiment with new techniques.
The location
The museums are all within a few minutes' walk of each other in the centre of historic Oxford, making it possible to visit two or more collections whilst considering a single theme.
They have a well-established reputation for collaborating with contemporary artists whose work both challenges and inspires visiting young artists.
In 2010-11, more than 21,000 secondary school art students visited the museums for inspiration, research, and recording. The quality of the experience attracted schools from South Wales to Staffordshire, and almost everywhere in between.
For further information
Artefact: a richly illustrated site showcasing predominantly KS3 and KS4 artists' work inspired by the museums:
Joint Museums website: contains downloadable resources, booking information, the Art Teachers Newsletter, and details of workshops -
www.museums.ox.ac.uk/content/art-education
Secondary Art Education Officer: adrian.brooks@prm.ox.ac.uk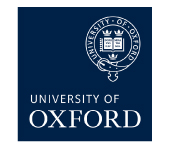 ---
Location | Organisation's website