Communication and Culture (2625)
We are not developing a new A-level Communication and Culture qualification due to government changes to A-levels.
This is our outgoing A-level specification, available for re-sits only.
The last exams for students taking the current qualification will be in the June 2018 series, with a final re-sit opportunity in June 2019.
You may like to consider our new AS and A-levels as an alternative. For example, AS and A-level Sociology available for teaching from September 2015, or AS and A-level Media Studies which we plan to redevelop for teaching in September 2017.
Find out more about these changes and which qualifications we are planning to offer in the future. You can also contact the customer support team on the details shown below.
---
Right up until the last exams in 2017 and 2018, A-level Communication and Culture will remain an exciting, dynamic and challenging qualification, and a valuable option for students working at this level.
Students of A-level Communication and Culture investigate their own cultural environment and then consider forms of communication and interpretation within and between cultures.
The specification also includes:
strong contemporary orientation
transferable academic, work-related and personal development skills
creative and stimulating case study work
opportunities for independent and autonomous study as well as teacher-led case studies.
The specification is particularly suitable for 16-18 year olds, providing them with many opportunities to relate their own life experiences to contemporary academic debates.
It is also excellent preparation for further study and work. Countless A-level Communication and Culture students have gone on to courses and careers in marketing, public relations, advertising, journalism and more.
---
Specification
The exams are now only in June due to Changes to A-levels.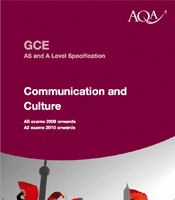 Key dates
Results for May/June 2019 available to schools/colleges via e-AQA and EDI for exams officers and heads of centre
Receive written feedback for May/June 2019 internally-assessed work
Results for May/June 2019 released to students
Codes and references
Qualification type
A-level
Specification title
Communication and Culture
Specification code
2625
Certification code
1626 AS
2626 A2
QAN codes
5002243X
50022489
Updates to Communication and Culture (2625)