Creative Writing (2750)
We are not developing a new A-level Creative Writing qualification due to government changes to A-levels.
This is our outgoing A-level specification, available for re-sits only.
Ofqual currently states that, with the exception of re-sits, the last time students will be able to sit exams in Creative Writing will be in summer 2017 (AS level) and summer 2018 (A-level).
Ofqual are still consulting on the availability of re-sits. We expect them to be available in summer 2018 (AS level) and summer 2019 (A-level and possibly AS level), but this will be restricted to students who have previously certificated.
Find out more about these changes and which qualifications we are planning to offer in the future. You can also contact the customer support team using the details shown below.
---
Creative writing is a distinct discipline in higher education. It encourages the development of skills that are essential for further study and a range of professional careers. This A-level enables aspiring writers to start on the path to professional practice and is equally useful for anyone interested in improving their creative and critical thinking and communication skills.
Introducing students to creative writing, the specification will:
help them access their intended career
improve their ability to write for a range of audiences
develop key skills that can be applied in the real world
complement, rather than replicate, the study of English Language/Literature.
---
---
Specification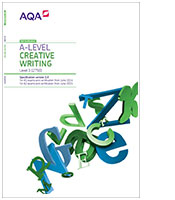 Specification
Key dates
Results for May/June 2019 available to schools/colleges via e-AQA and EDI for exams officers and heads of centre
Receive written feedback for May/June 2019 internally-assessed work
Results for May/June 2019 released to students
Codes and references
Qualification type
AS and A-level
Specification title
Creative Writing
Specification code
2750
QAN codes
60077463
60077451
Updates to Creative Writing (2750)
Talk to us
The customer support team.
8am–5pm Monday to Friday
Tel: 0161 953 7504
Email: english-gce@aqa.org.uk