English (4720) (4725)
The last exams for this qualification will be in the November 2019 series, providing the learner is registered for funding by 31/08/2019. There will be no resit opportunity after this series.
The first exams for our new specification will be in the January 2020 series.
This specification, Functional English Level 1 and Level 2 (4720, 4725), gives students practical skills for the modern world and helps them get the most from life, learning and work.
This specification aims to ensure students have good communication skills in reading, writing, speaking and listening. It assesses whether students can use these skills in everyday situations.
Often a student's first accredited qualification in English, this course can be used in preparation for GCSE. It is suitable for a wide ability range and is used by many schools as a replacement for SATs.
There are no prior learning requirements for this pass/fail qualification.
---
---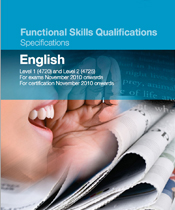 Specification
Key dates

Start time: am
Duration: 1h
Exam for Functional Skills English Level 2 Reading March 2020 series

Start time: am
Duration: 1h
Exam for Functional Skills English Level 1 Reading March 2020 series

Start time: pm
Duration: 1h
Exam for Functional Skills English Level 1 Writing March 2020 series
Codes and references
Qualification type
Functional Skills
Specification title
English (4720)
Specification code
4725
Certification code
4721 Level 1
4726 Level 2
QAN codes
50087010
50091268