General Studies A (2760)
Due to government changes, this specification is no longer being taught or examined.
The information we provide on this page is for reference only. As an alternative you might like to consider:
---
---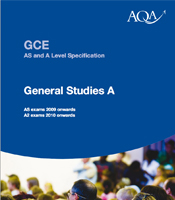 Specification
The last January exams for AS and A2 were in January 2013.
The exams are now only in June due to Changes to A-levels.
Key dates
Date by which May/June 2019 certificates will be issued
May/June 2020 mark schemes and Reports on the Examination for series 6A20 published via Secure Key Materials on e-AQA only
Results for May/June 2020 available to schools/colleges via e-AQA and EDI for exams officers and heads of centre
Codes and references
Qualification type
A-level
Specification title
General Studies A
Specification code
2760
Certification code
1761 AS
2761 A2
QAN codes
50022222
50021849
Updates to General Studies A (2760)
When there are changes to the specification, updates appear here.