Geography (2030)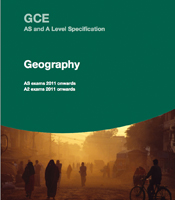 Specification
The last January exams for AS and A2 were in January 2013.
The exams are now only in June due to Changes to A-levels.
Key dates
Results for May/June 2019 available to schools/colleges via e-AQA and EDI for exams officers and heads of centre
Results for May/June 2019 released to students
Receive written feedback for May/June 2019 internally-assessed work
Codes and references
Qualification type
AS and A-level
Specification title
Geography
Specification code
2030
Certification code
1031 AS
2031 A2
QAN codes
AS: 50025946
A2: 50025922
Updates to Geography (2030)
When there are changes to the specification, updates appear here.