Health and Social Care (2820)
We are not developing a new A-level Health and Social Care qualification due to government changes to A-levels.
This is our outgoing A-level specification, available for re-sits only.
---
---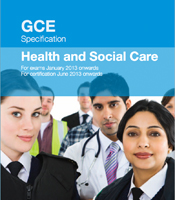 Specification
The last January exams for AS and A2 were in January 2013.
The exams are now only in June due to Changes to A-levels.
Key dates
Date by which May/June 2019 certificates will be issued
May/June 2020 mark schemes and Reports on the Examination for series 6A20 published via Secure Key Materials on e-AQA only
Results for May/June 2020 available to schools/colleges via e-AQA and EDI for exams officers and heads of centre
Codes and references
Qualification type
A-level
Specification title
Health and Social Care
Specification code
2820
Certification code
1821 AS
1822 AS
2821 A2
2822 A2
QAN codes
60052594
60052582
60052570
60052569
Guided Learning Hours
180/360 (AS Single/Double); 360/720 (A2 Single/Double)
Updates to Health and Social Care (2820)
When there are changes to the specification, updates appear here.