Modern Hebrew (2675)
The A-level Modern Hebrew specification brings the language to life as students apply their learning to real-life scenarios. There's also an opportunity to study the culture and history of the countries and communities concerned.
From GCSE to A-level, our Modern Hebrew language specifications offer a clear route of progression, building on grammar and topic content at each stage. Seamless progression within our qualifications can help encourage students to stay with their studies.
Given employers' demand for language skills, this could mean higher employability for your students.
GCSE language qualifications also contribute toward the English Baccalaureate.
---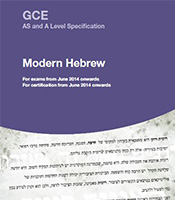 Specification
The last January exams for AS and A2 were in January 2013.
The exams are now only in June due to Changes to A-levels.
Key dates
Results for May/June 2020 available to schools/colleges via e-AQA and EDI for exams officers and heads of centre
Results for May/June 2020 AQA Certificate (Level 3), Applied General, Functional Skills and Level 3 Extended Project released to students
Results for May/June 2020 released to students
Codes and references
Qualification type
AS and A-level
Specification title
Modern Hebrew
Specification code
2675
Certification code
1676 AS
2676 A2
QAN codes
50023184
50023354
Updates to Modern Hebrew (2675)
When there are changes to the specification, updates appear here.
Talk to us
The customer support team.
8am–5pm Monday to Friday
Tel: 01423 534381
Email: mfl@aqa.org.uk