Polish (2685)
This is our outgoing A-level specification. Last exams will be June 2019 with a final resit opportunity in June 2020.
For our new A-level specification (first teaching from 2018, first awarding in 2020) see:
A-level Polish helps students develop confident, effective reading and writing skills in Polish. It develops an awareness and understanding of the contemporary society, cultural background and heritage of countries or communities where the language is spoken.
This two-unit specification requires students to develop their ability to read and write in Polish with accurate grammar for a range of purposes and to understand written Polish in a variety of contexts and genres.
This course is particularly suitable for students who have studied GCSE Polish and wish to study Polish at a higher level.
---
---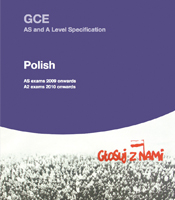 Specification
The last January exams for AS and A2 were in January 2013.
The exams are now only in June due to Changes to A-levels.
Key dates
Date by which May/June 2019 certificates will be issued
May/June 2020 mark schemes and Reports on the Examination for series 6A20 published via Secure Key Materials on e-AQA only
Results for May/June 2020 available to schools/colleges via e-AQA and EDI for exams officers and heads of centre
Codes and references
Qualification type
AS and A-level
Specification title
Polish
Specification code
2685
Certification code
1686 AS
2686 A2
QAN codes
50023160
5002338X
Updates to Polish (2685)
When there are changes to the specification, updates appear here.
Talk to us
Now available to support you until 7pm.
(During half term weeks we will close at 5.30pm)
Tel: 01423 534381
Email: mfl@aqa.org.uk