Level 2 Further Mathematics (8360)
The AQA Level 2 Certificate in Further Maths places an emphasis on higher order technical proficiency, rigorous argument and problem-solving skills. This IGCSE style qualification counts as the Maths measure in school performance tables from summer 2014 until summer 2016. It will run in its current form until June 2019.
It gives high achieving students an introduction to AS level topics that will help them to develop skills in:
Algebra
Geometry
Calculus
Matrices
Trigonometry
Functions
Graphs.
Assessment is linear: paper 1, the written paper (non-calculator) carries 40 per cent of marks and paper 2, written paper (calculator) carries 60 per cent of marks.
This qualification is suitable for students who already have or are expected to get grades A and A* in GCSE Mathematics and who are likely to progress to A-level study in Mathematics and possibly Further Mathematics.
IGCSE is the registered trade mark of University of Cambridge International Examinations.
---
---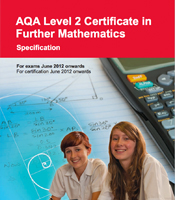 Specification
Key dates
Date by which May/June 2019 certificates will be issued
Results for autumn 2019 Personal and Social Education issued to schools/colleges
November 2019 mark schemes and Reports on the Examination published via Secure Key Materials on e-AQA
Codes and references
| | |
| --- | --- |
| Qualification type | AQA Certificate |
| Specification title | Level 2 Further Mathematics |
| Specification code | 8360 |
| QAN codes | 60021238 |
| Guided Learning Hours | 120-140 |
Updates to Level 2 Further Mathematics (8360)
Talk to us
The customer support team.
8am–5.00pm Monday to Friday
Tel: 0161 957 3852
Email: maths@aqa.org.uk