Mathematics (4367) (4368)
The last exams for this qualification will be in the November 2019 series, providing the learner is registered for funding by 31/08/2019. There will be no resit opportunity after this series.
The first exams for our new specification will be in the January 2020 series.
Functional Mathematics Level 1 and Level 2 (4367, 4368) aims to promote mathematical thinking and transferable skills rather than rote learning. Students will also cover:
Maths that is useful in everyday situations and the world of work
contextual material which emphasises the benefits of Maths to people who have been 'turned off' by the subject.
The Functional Mathematics specification is suitable for students of various ages and from diverse background in terms of lifelong learning.
The Level 1 qualification in Functional Mathematics provides a good basis for progression to Level 2 in Functional Mathematics and GCSE.
---
---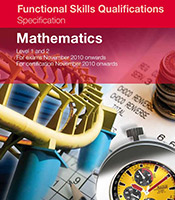 Specification
Key dates
Results for March 2020 exams available to schools/colleges via e-AQA and EDI for exams officers and heads of centre
March 2020 Functional Skills mark schemes and Reports on the Examination published via Secure Key Materials on e-AQA
Receive written feedback for March 2020 Functional Skills internally-assessed work
Codes and references
Qualification type
Functional Skills
Specification title
Mathematics (4367)
Specification code
4368
QAN codes
50087022
50087034
Updates to Mathematics (4367) (4368)
Talk to us
The customer support team.
8am–5.00pm Monday to Friday
Tel: 0161 957 3852
Email: maths@aqa.org.uk