Physical Education (2580)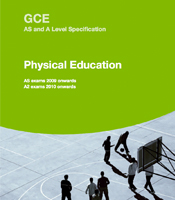 Specification
The last January exams for AS and A2 were in January 2013.
The exams are now only in June due to Changes to A-levels.
Key dates
Results for May/June 2019 available to schools/colleges via e-AQA and EDI for exams officers and heads of centre
Results for May/June 2019 released to students
Receive written feedback for May/June 2019 internally-assessed work
Codes and references
Qualification type
AS and A-level
Specification title
Physical Education
Specification code
2580
Certification code
1581 AS
2581 A2
QAN codes
50026422
50026392
Updates to Physical Education (2580)
When there are changes to the specification, updates appear here.
Talk to us
8am–5.30pm Monday to Friday
Tel: 01483 477822
Email: pe@aqa.org.uk