Level 2 Higher Project Qualification (7992)
Withdrawal of January entry series after 2021
The last time schools can enter for L1 and 2 Projects in the January exams series will be January 2021. Students can still enter in the summer series.
Our Higher Project Qualification specification has been updated for teaching from September 2020, with first assessment in May 2021. We have updated the specification to help you manage project qualifications in your school and ensure your students are prepared for their Higher Project Qualification.
Our Higher Project Qualification allows students to discover the joys of independent learning, take responsibility for their own study and develop new life and study skills.
The Higher Project can be offered alongside other level 2 or level 3 qualifications (including vocational qualifications) as a stand-alone qualification. You can use the Higher Project to extend and develop your students' learning and to introduce students to project qualifications in preparation for taking the EPQ as part of their post 16 curriculum.
Email us with your name, email address and school details to tell us you're planning to offer the Higher Project Qualification and we will allocate you a named Project Adviser and provide you with ongoing support and resources.
---
---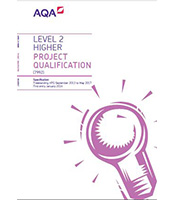 Specification
Key dates
Date by which January 2021 and March 2021 certificates will be issued
Results for May/June 2021 Functional Skills made available to schools/colleges via Centre Services and EDI for exams officers and heads of centre
Results for May/June 2021 Functional Skills released to students
Codes and references
| | |
| --- | --- |
| Qualification type | Project qualifications |
| Specification title | Level 2 Higher Project Qualification |
| Specification code | 7992 |
| QAN codes | 60095337 |
Talk to us
The customer support team.8am–5pm Monday to Friday Tel: 0161 957 3980
Email: projects@aqa.org.uk