Electronics (2430)
We are not developing a new A-level Electronics qualification due to government changes to A-levels.
This is our outgoing A-level specification, available for re-sits only.
The last exams for students taking the current qualification will be in the June 2018 series, with a final re-sit opportunity in June 2019.
As an alternative, you may like to consider our new AS and A-level in Physics, which is accredited for first teaching in September 2015.
Find out more about these changes and which qualifications we are planning to offer in the future. You can also contact the customer support team on the details shown below.
---
A-level Electronics is an absorbing course for students who want to explore and understand the electronic systems that underpin everyday life.
There are six units in the specification – three at AS Level and three at A2. Four of the units are assessed by written exam. Two units are coursework focusing on AS units 1 and 2 in the first year and A2 units 4 and 5 in the second year.
A-level Electronics has strong elements of Mathematics, Physics and Computing within it. Students who have studied these subjects in the new GCSE, as well as GCSE Electronics, will be well-prepared to study for the A-level.
---
Specification
Exams for this specification are only available in June.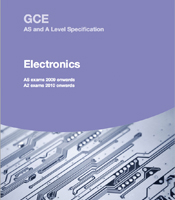 Specification
Exams for this specification are only available in June.
Key dates
Results for May/June 2019 available to schools/colleges via e-AQA and EDI for exams officers and heads of centre
Receive written feedback for May/June 2019 internally-assessed work
Results for May/June 2019 released to students
Codes and references
Qualification type
AS and A-level
Specification title
Electronics
Specification code
2430
QAN codes
5002341X
5002355X
Updates to Electronics (2430)
When there are changes to the specification, updates appear here.