Sociology (4190)
This specification is no longer being taught or examined. It's here for reference only. For the current specification, see GCSE Sociology (8192).
---
Examiner vacancies
Apply now for GCSE Sociology examiner and moderator jobs.
---
Specification
Amended due to Changes to GCSEs. Short courses are no longer included in performance table headline measures.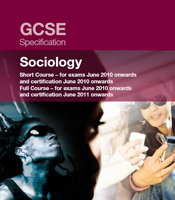 Key dates
Results for May/June 2018 available to schools/colleges via e-AQA and EDI for exams officers and heads of centre
Receive written feedback for May/June 2018 internally-assessed work
Results for May/June 2018 released to students
Codes and references
Qualification type
GCSE
Specification title
Sociology
Specification code
4190
Certification code
4192 Full Course
4191 Short Course
QAN codes
50044369
50044370
Updates to Sociology (4190)
When there are changes to the specification, updates appear here.