Charities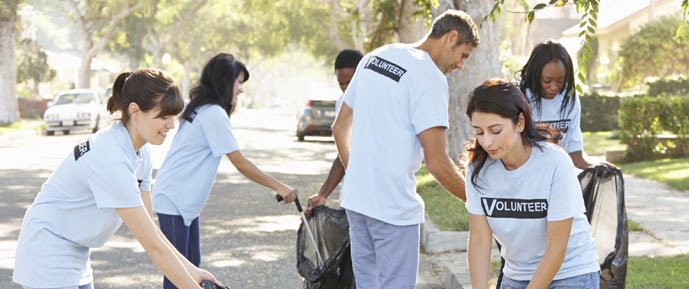 How the Unit Award Scheme (UAS) helps your learners
The scheme:
rewards students for short units of work
supports, motivates, and promotes a positive learning experience
can be used as a stepping stone to other awards or qualifications
can be used to recognise voluntary work.
Did you know?
Hundreds of charities already use the UAS to recognise student achievements.
Learners of any age or ability can use the UAS.
You can write your own units.
The scheme offers units that are relevant, accessible and achievable.
Sample units
Here are just some of the many units available:
We believe everyone should be given the credit they deserve.
Case study: Swindon Advocacy Movement
Sally Whitehead, Project Coordinator, says:
In November 2018, Swindon Advocacy Movement launched our NatWest funded 'Money Matters' project for adults with learning disabilities. The project aims to help participants gain greater financial confidence, capability and independence through a series of accessible and informal workshops and short courses.

When we were developing the programme we knew that we wanted to be able to offer AQA Unit Awards as a way of recognising and celebrating our client's achievements.

The Unit Award Scheme helps us to structure our courses and make them more meaningful for our clients. So far we have awarded certificates on everything from basic coin recognition through to more challenging independent shopping and budgeting skills. As the project progresses we are hoping to write our own units to suit individual needs, and now we're a registered centre we have plans to start using the scheme across future projects too.

The difference the UAS certificates have made to our participants is enormous and has given them a great sense of achievement and pride. One of our key aims with the project is for our clients to build their self-esteem and sense of well-being around 'Money Matters' and the AQA Unit Award Scheme really enables us to do this effectively!
Case study: Centrepoint
Julie Maguire, UAS Coordinator says:
The Centrepoint Lifewise programme is a series of workshops that help homeless young people develop the skills they need for independent living. The workshops cover a range of issues, from paying bills and managing debt, to eating healthily and understanding rights and responsibilities.

The AQA Unit Award Scheme is an important part in the success of the Centrepoint Lifewise programme for both young people from Centrepoint and its Partnering members. The Unit Award Scheme offers flexible units that can be delivered in a one-to-one or group setting. There are various methods to capture outcomes and all young people's efforts are recognised through the different levels of accreditation available.

Accrediting the Centrepoint Lifewise programme through the Unit Award Scheme provides a stepping stone for young people who have disengaged with formal education in the past, helping them to progress into education, employment and training.
A Centrepoint support worker says:
The Lifewise units have proved a vital tool for the young people Isupport, in building their confidence and improving their engagement. These areoften the first tentative steps back into formal education.
Mandy Collymore, Centrepoint says:
Members of the Centrepoint Partnering Scheme and the young people theysupport really enjoy using the Lifewise programme, as not only do they learn theskills to live independently but they also receive formal recognition for theirnew-found skills.
Case study: RSPCA Mallydams
AQAUAS certificates are awarded to primary school children as part of theyouth intervention programme, and the young people from the YOT. It's a versatile accreditation that can betailored to children as young as eight.
Eachchild and young person who takes part in the project gains AQA Unit AwardScheme certificates in animal welfare subjects as well as a variety ofpractical skills.
The headteacher of Rye Primary School says:
It's a tangiblereminder of their experience and gives them a sense of achievement. They are presented with them at a specialassembly in school. In the assembly thechildren show photographs and show the bird boxes that they made, and talk aboutwhat they have achieved and their favourite bit of learning. They presented very well – it was a verypositive experience.
The Youth Offending Team says:
It gives them a sense ofachievement and at the same time there isn't any pressure to achieve straightaway. They can be very scared of failureso it's good to give them an opportunity to try and then fail, then try again, and ultimately to succeed.
Case study: Dorset Wildlife Trust
Joy Wallis, Community Conservation Officer says:
We came across the AQA Unit Award Scheme in 2012 when developing a community conservation project for a Heritage Lottery Funding grant application, which was to include a strong element of volunteer training, and we thought it would make a wonderful way of giving this training some accreditation. HLF agreed with us and it was a significant factor in making our funding bid successful. There were a few suitable units already on the website which only needed a little tweaking to make applicable to Dorset and our organisations' training opportunities, and I found it fairly easy to write other units to fill in the gaps giving us a total of 26 units on offer, so far, with more being added. The units take "Wildlife Champions" down the people involvement route of conservation, surveying or habitat management or a mixture of all three as their interest and abilities dictate. I wrote units which give volunteers a good introduction to the work we do as a Wildlife Trust and which I hope will empower volunteers going through the training programme to take an active part in conservation and care of the natural environment in their own local areas. I also included units on "Wildlife Law", "Fund Raising", "Health and Safety" and "Communications and Use of the Media", all things which many community groups ask us to help with. I do have to stress, however, that the units are intended as an introduction or taster or to give them more of an idea of where to find the information as they need it, rather than to set them up as experts!

To date we have had over 150 "Wildlife Champions" undertaking training and we are still enrolling candidates, who join in a rolling programme, who set their own work schedule. They range in age from 18 to 74 and come from all walks of life, including one volunteer who is registered as homeless. Several Care in the Community groups who regularly work with us have also joined the programme. Many others are in full-time employment, so units are offered in the evenings and at weekends, as well as encouraging volunteers to join our work parties and other activities which offer chances to sign off outcomes. Three volunteers attained places in higher education last year on the back of having completed our programme, and one volunteer in her 50s has given up her office job of 17 years and is now studying Environmental Science at university.

Other neighbouring Wildlife Trusts have also taken on the UAS to give their own volunteer training accreditation, and The South West Wildlife Trusts are also using the AQA Unit Award Scheme and the units I wrote as the basis of a full-time volunteer training programme across the whole region. Everyone is always so pleased to receive their certificates, and DWT staff have acknowledged that having Wildlife Champions as part of work parties and events, asking all the right questions to cover their outcomes, adds value to the activity for everyone.

So a win-win all round!