Teaching guide: SWOT analysis
SWOT analysis is one part of the process of strategic planning. It involves an internal and external audit which may take place before a business develops an appropriate strategy.
Model/theory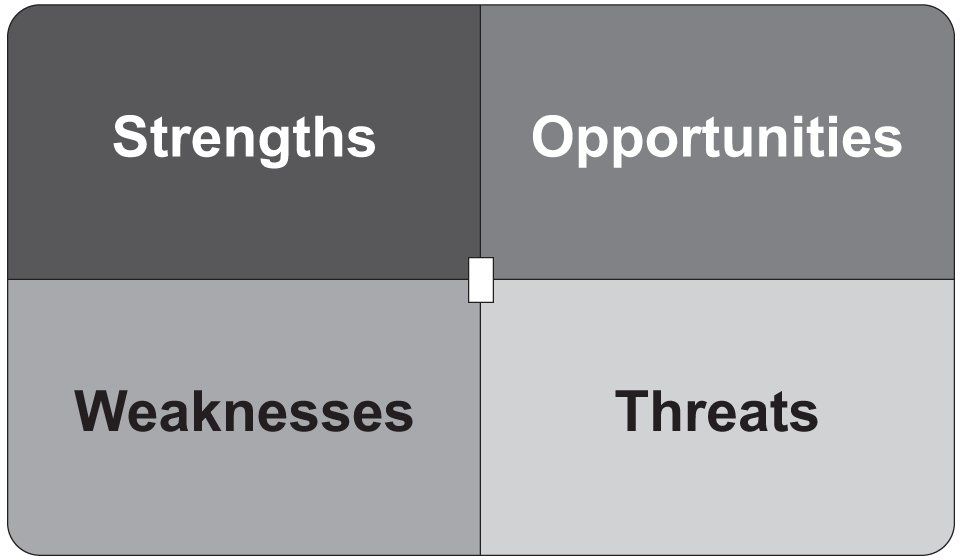 Key points
A SWOT analysis will be unique to each business (and for different parts of the business). It will change over time as conditions change and so the analysis needs to be undertaken regularly.
However SWOT analysis does not guarantee that a strategy is successful. For example, conditions may change faster than the business has realised, the wrong strategy may be selected or it may be poorly implemented.
Strengths and weaknesses
Strengths and Weaknesses are internal features of the present position of a business.
For example:
strengths might include a good distribution network, a good cash flow position or well trained staff
weaknesses might include an over-emphasis on the UK market or a weakened brand due to several product recalls.
Opportunities and threats
Opportunities and Threats are the possible consequences of a change in the external environment of a business.
For example:
opportunities might include new markets opening up or economic recovery
threats might include increased competition or greater regulation of the industry which impacts negatively.
When you can use this
When considering the strategic planning process.
One view of strategy is that organisations develop it in a scientific manner: they gather information to analyse the existing position and opportunities and threats in order to decide what strategy to adopt. SWOT analysis is therefore a vital part of this process. A business may build on its strengths and focus on the opportunities or try to protect itself against threats.
In reality, a strategy may emerge over time; often the strategy that occurs is not exactly the one originally chosen.
Where it's been used
Q2, A-level paper 1, 2018