Online training
Benefits
Live online training is an easy, effective way to maximise your skills. Our online courses are engaging, convenient and excellent value for money. They give you the flexibility to join live sessions from your school or home so you don't have to worry about travel or missing essential teaching time.
It's easy to take part; you can listen through speakers or headphones (on a PC or MAC with the latest version of flash), type questions and take part in activities or polls. Once you've booked, we'll send you emails confirming your booking and providing joining instructions.
Simply book your course and log in to learn, or read further information about what you need to take part.
---
How does it work?
Find out how online training works.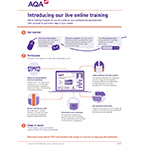 Got a booking query? Email events@aqa.org.uk